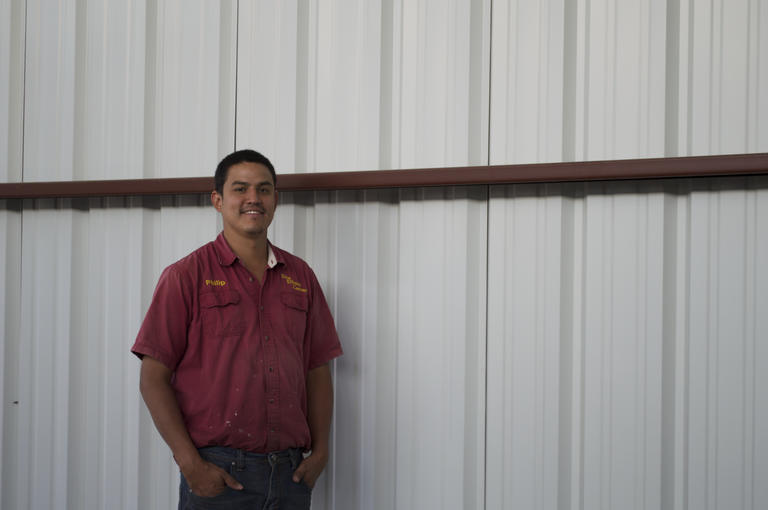 Dix Diesel Center
Richard Barnhart & Philip De Leon
Business Lending
Luling, TX
When Philip DeLeon was approached by his partner Richard Barnhart about opening up Dix Diesel Center in Luling, Texas, to provide diesel engine repair for the central and east Texas area, he was excited about the new venture…but the property needed some sprucing up before they could really get underway.
"The property wasn't in great condition. I spent a solid month on a bulldozer cleaning up," said Philip. What had been an eyesore in the community for nearly 20 years took two and a half months to clean, moving out ten 18-wheeler loads of tires, trash and useless equipment. The partners put in what money they could, but needed a little extra assistance to complete the job. That's where BCL of Texas came in.
"BCL of Texas helped us finish the job of revitalizing the property and adding new bays," says Philip. "The people in town are impressed with how far we've come."
Indeed the results are impressive: not only has the property undergone a transformation, but the business is booming as it comes up on its first anniversary on June 1st. "We're going wild with business. We're on track to generate $1 million in revenue this year alone."
As a shop that specializes in diesel engine repair of all kinds for large trucks, RV's, big pickups and even generators and small engines, Dix Diesel Center services are in high demand along the I-10 highway, which remains heavy with shipping and tourist traffic. Additionally, they're benefitting from the increased traffic in the area due to oil and gas production in the Eagle Ford Shale. With those benefits, however, come increased challenges, such as competing for skilled employees with companies that have very deep pockets.
"We currently have 9 employees and are looking to hire 3 more for specialty work as soon as we can find the right candidates," says Philip. In the meantime, the current team has the hard work and dedication to keep the business going strong, building a hefty client base with the help of word of mouth from happy customers. Future plans include looking at an SBA loan to expand, and adding a tire shop and parts store, filling a gap for parts supply that exists between San Antonio and Houston.
The team stays busy, but you can tell they're pleased with the work. "All this paperwork stacked up here is just from yesterday," says Philip, heading out to help some customers who just arrived with an RV. There's no shortage of work to be done, but the grin on his face is a strong indication that being in business for yourself is well worth the effort.
AUSTIN
1011 San Jacinto Blvd
Suite 500
Austin, TX 78701
P: 512.912.9884
F: 346.301.5752
NMLS #1114924
DALLAS
400 S Zang Blvd
Suite 1220
Dallas, TX 75208
P: 214.688.7456
F: 346.301.5752
NMLS #1114924