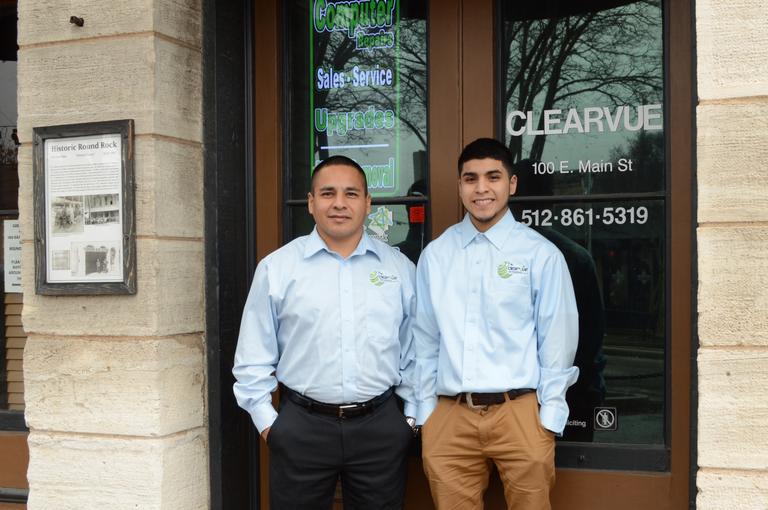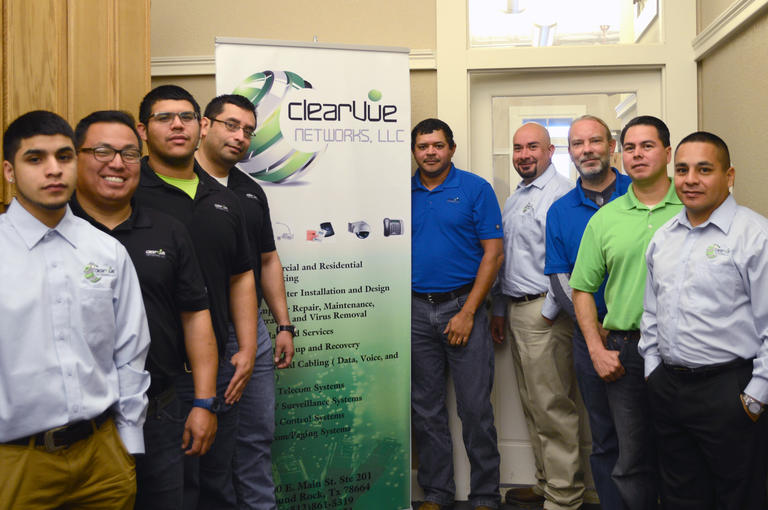 ClearVue Networks, LLC
Jason Herrera
Business Plan Assistance
Round Rock, TX
There are many different kinds of business owners out there. There's the salesman, the organizer, the independent do-it-yourselfer, and more. But the successful ones? They build a team that can wear all the hats. Just ask Jason Herrera, owner of ClearVue Networks, LLC, an information technology (IT) firm that in just the past five months has grown from 5 to 13 employees, a number which is likely to double before the end of the year.
"At this point I couldn't stop this growth if I tried," says Jason. "But we're not interested in becoming a large corporate entity. We are and will remain a family-owned small business."
Started just five years ago with three employees, one of which was Jason's son Manuel, the company has blossomed from a small installation and basic service provider to a full-service IT management company, assisting many of the larger hospitals, schools and businesses in the area with cabling, installation, monitoring, server management, computer repair, networking and even security system and telecom services. They've also recently brought a web developer on board to be able to assist organizations to build their online presence and ecommerce sites as well. As a full-service provider, they're typically able to save their customers an estimated 40-60% over the cost of hiring separate service providers for all of their needs.
No doubt Jason's higher level vision is behind the exponential growth phase they're currently experiencing. He frequently acts as a connector in the small business community, bringing together individuals and organizations who can benefit from each other's services, and hosts networking conferences to bring people together on a larger scale.
"You can't always be about yourself or your own company," says Jason. "You have to look at the big picture and think, who are the key people who can help us grow? Then you start putting your teams together and build a larger network in which everyone can benefit."
The future is bright for ClearVue Networks, LLC. A large contract with Office Depot and a preferred partnership with the Hospital Corporation of America (HCA) has the crew traveling all over the US performing installations for K-12 schools and hospitals, opening a possibility for national expansion. In addition to their corporate headquarters in Round Rock, they also operate an office in San Antonio and will open two more in Dallas and Houston in the next few weeks. In spite of all of the new work secured for the future, Jason keeps staff appreciation a high priority, with barbecues and fun activities on a regular basis, and tries to set a good example by being in the field himself rather than hiding behind a desk all day.
"For me, the number one thing is to provide a family-oriented business environment for my employees," says Jason. With son Manuel at his side and a strong, cohesive staff, Jason definitely seems to have his business priorities in order.
Looking for a great IT company? Jason and the team at ClearVue Networks, LLC have assisted BCL of Texas with many IT services including cabling and installation for a new office, server management, computer repair and more, all with exceptional expertise and professionalism. For more information and to schedule a consultation, visit www.clearvuenetworks.com.
AUSTIN
1011 San Jacinto Blvd
Suite 500
Austin, TX 78701
P: 512.912.9884
F: 346.301.5752
NMLS #1114924
DALLAS
400 S Zang Blvd
Suite 1220
Dallas, TX 75208
P: 214.688.7456
F: 346.301.5752
NMLS #1114924
SAN MARCOS
302 W Hopkins St
Suite 2
San Marcos, TX 78666
P: 512.383.0027
NMLS #1114924