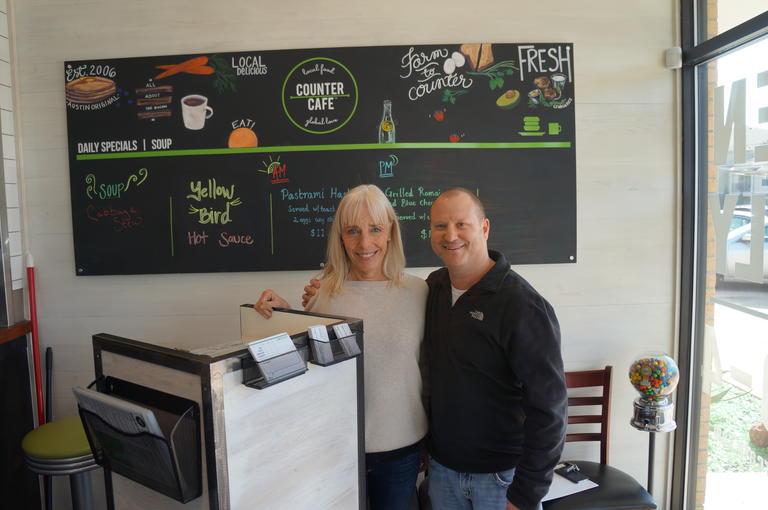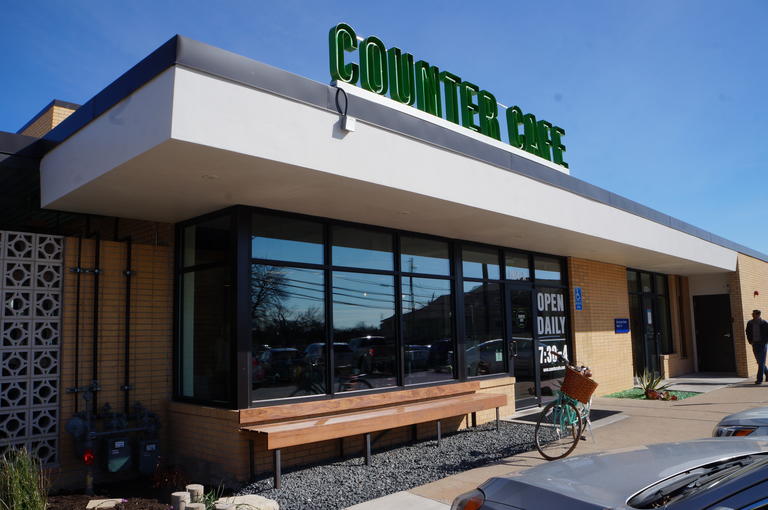 Counter Cafe
Debbie Davis & Doug Kissner
Business Loan
Austin, TX
Just a few weeks in, it's easy to see the new Counter Cafe location is going to be a hit.
"We have some regulars who come in twice a day," says owner Debbie Davis. "This is a place where strangers talk to strangers. How many places can you go where that happens?"
Indeed, there is a unique atmosphere inside the restaurant, one where the greetings are as warm as the hot cakes. When Debbie opened her first Counter Cafe on North Lamar, she opened the doors with no advertising. Instead, she simply stuck with her ideology of edible authenticity, serving up delicious, wholesome food that's organic and locally sourced whenever possible.
Through word of mouth alone, the first Counter Cafe began to generate a significant amount of buzz. Texas Monthly declared theirs the #2 burger in the state, and they also earned the attention of Food Network, who featured the spot on their show Diners, Drive-ins, and Dives. They remain a consistent favorite among Austinites and tourists alike for their fresh squeezed juice, farm fresh ingredients, and customer favorites such as the Quail and Eggs.
So when the time came to start thinking about growing the business, Debbie knew she wanted to stick with what was already working and stay close to the heart of Austin. To that end, she teamed up with restauranteur Doug Kissner to bring the brand to the East Side. A Post Office on East 6th Street was converting their building into 3 leasable spaces and Debbie and Doug snatched one up, enlisting the help of STUDIOGEE Architecture to infuse the space with the vibrancy of a modern, upscale diner. The larger kitchen allowed them to add new menu items, such as their Fried Oysters, under the oversight of their culinary partners, brothers Steve & Nick Cruz.
The new location required several months of very long days for Debbie, Doug, Steve and Nick, but it's already paying off. With just eight weeks under their belt, they're already exceeding sales goals, and have a growing team of 12 employees receiving living wages. They contribute their success to their precise vision for the brand and commitment to authenticity, as well as their willingness to learn from the mistakes every entrepreneur will inevitably make.
"I made every mistake you could make but people just keep coming back," says Debbie. "People are just starving for places like this. We've been very lucky."
Whenever you're ready for the full-on Austin diner experience, there's always a spot waiting for you at the Counter Cafe.
AUSTIN
1011 San Jacinto Blvd
Suite 500
Austin, TX 78701
P: 512.912.9884
F: 346.301.5752
NMLS #1114924
DALLAS
400 S Zang Blvd
Suite 1220
Dallas, TX 75208
P: 214.688.7456
F: 346.301.5752
NMLS #1114924