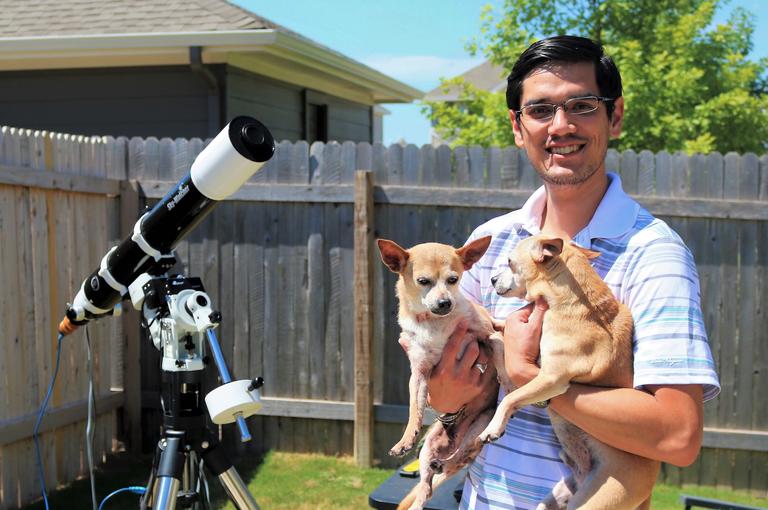 First-Time Home buyer
Steven Hanaway
NeighborhoodLIFT
San Marcos, TX
As new homeowner Steven Hanaway stands over his cast iron skillet talking about his love of cooking he says, "One of my favorite things about owning a home is that I love being able to pick my own appliances," gesturing to his refrigerator and other kitchen appliances.
He's also happy to have a 3-bedroom space, which allows room for his home office and a guest room for when his family comes to visit, as well as space to start his own family someday. His new yard allows ample room for his two chihuahuas, Isabel and Nacho, to run around.
A retired disabled veteran, 25-year-old Steven purchased his first home in San Marcos, TX, through the BCL NeighborhoodLIFT program. Steven chose the location as a halfway point between San Antonio, where his family lives, and Austin, where he plans on studying to earn a Phd in Physics starting next spring. An avid amateur astronomer, Steven's ultimate goal is to study physics, focusing on research. Knowing that he'll be in the home for several years while pursuing his degree, Steven is happy that he will be building equity. Despite being retired from the military, Steven says, "I want to rejoin the workforce and make an even greater contribution to society," he said.
As a self-described modern nomad, the LIFT down payment assistance program allowed Steven to put down roots for the first time in his life. To Steven, having his own home is about having his own property, a place where he can live in safety and in comfort. "Buying a house on a fixed income can be difficult," he said. "The financial aid was very helpful in reducing closing costs." By not having to roll these costs into the loan, he was ultimately able to keep his interest rate lower.
To other young buyers getting ready to buy their first home, Steven offers his advice: "I would say to them to take advantage of programs that will help you reach your goals. You're going to contribute to society and make your impact, so there's no reason society can't help you."
AUSTIN
1011 San Jacinto Blvd
Suite 500
Austin, TX 78701
P: 512.912.9884
F: 346.301.5752
NMLS #1114924
DALLAS
400 S Zang Blvd
Suite 1220
Dallas, TX 75208
P: 214.688.7456
F: 346.301.5752
NMLS #1114924