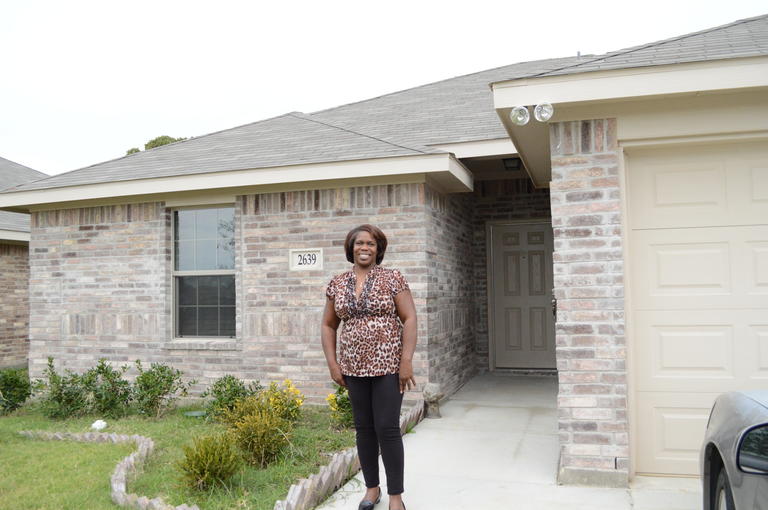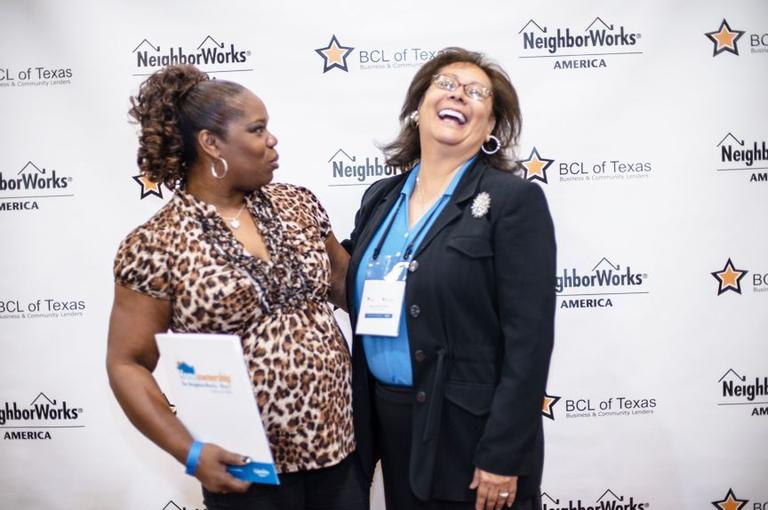 First-Time Homebuyers
Sandra Mayes & Family
NeighborhoodLIFT program, Homebuyer Education & Counseling
Dallas, TX
When construction started coming together on Sandra Mayes' new home, workers began to see what would become a familiar sight– Sandra herself, photographing the process and watching her home being put together piece by piece.
"It was an emotional ride but one I was ready to take," says Sandra of the home buying process. She had initially looked at buying a home in 2008, but then the economy indicated it would be better to wait. Now, with the help of the NeighborhoodLIFT program administered by the BCL of Texas NeighborWorks HomeOwnership Center, this past summer she became the owner of her first home, a brand new beautiful 4BR/2BA in what she describes as a nice, quiet neighborhood.
Sandra stresses that she wasn't alone in the process. She credits her Realtor with really going the extra mile to help her connect with credit repair resources and following up with her as she became financially prepared. She calls her Loan Officer at Town Square Financial, Christian Cook, a "godsend". He was the one who told her about the NeighborhoodLIFT launch event last February, where she met with BCL of Texas' Paul Randle and other staff who helped to prequalify her for the program. Later she met with HomeOwnership Center Manager Merecia Smith for her one-on-one counseling session at the BCL of Texas NeighborWorks HomeOwnership Center. She said she was nervous but everyone was very nice and excited for her.
"I'd been at this spot before and people just passed me by, but this group of people didn't do that," says Sandra. "They stuck with me and when I wanted to give up they said, 'Don't worry, you can do this.' For them, it's not about the money; it's about giving you your dream. It's about helping people that want to help themselves."
Sandra says her support system extended to her family, friends and work family, who followed the process and would ask for updates. She says that once she got through the NeighborhoodLIFT process, her excitement escalated. By the time she got to the closing table, she was crying with happiness. Her boss and coworkers knew she wanted to buy a house in time for her birthday and when that happened, they threw her a housewarming party at work.
She says the whole process started when she decided on a whim to attend a homebuyer seminar, and by sticking with it she overcame her obstacles and achieved her dream.
"I thought it would be harder than it was, but it was really pretty easy," says Sandra. "I would recommend to anyone that's waiting to get started, just do it. You'll be glad you did."
AUSTIN
1011 San Jacinto Blvd
Suite 500
Austin, TX 78701
P: 512.912.9884
F: 346.301.5752
NMLS #1114924
DALLAS
400 S Zang Blvd
Suite 1220
Dallas, TX 75208
P: 214.688.7456
F: 346.301.5752
NMLS #1114924