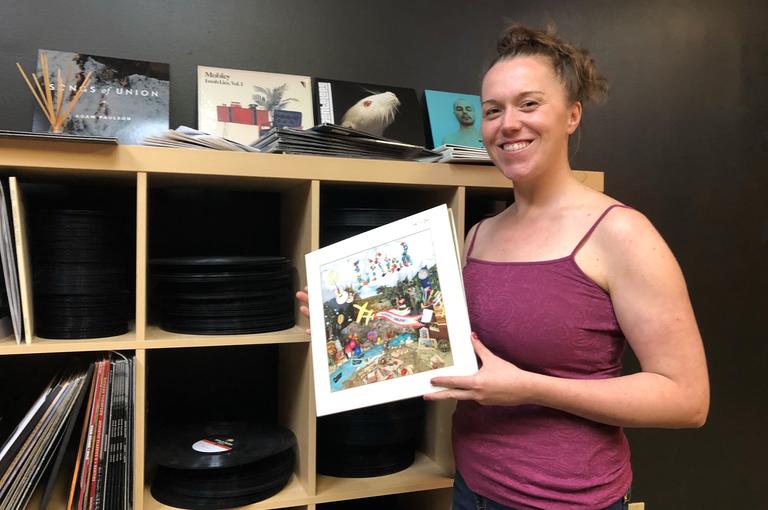 Gold Rush Vinyl
Caren Kelleher
Business Lending and Counseling
Austin, TX
The live music capital of the world now has its first record pressing plant, thanks to entrepreneur Caren Kelleher.
After working for Google's digital music division as their head of music apps, she saw how difficult it was to get vinyl music produced, especially for smaller bands without record labels. Spurred by the growing interest in a return to vinyl, Caren seized a gap in the market and opened Gold Rush Vinyl, a record pressing plant in Austin, TX.
Gold Rush works with bands big and small across the nation, but is an especially great resource for up-and-coming local bands, who can purchase vinyl with no minimum order and a quick turnaround time. "Vinyl makes more money for the musician," Caren said. The average musician earns more from selling 100 records than from 500,000 Spotify plays or 2.5 million YouTube views.
Gold Rush currently has capacity to produce up to 1.8 million record per year, and has plans for growth to increase production capacity up to 5.5 million records annually.
Caren was able to open her business within a period of less than a year, a quick trajectory that she credits in part to working with BCL of Texas for counseling and capital. "I was so happy to work with Brian," she said. "He asked the right questions, and that gave me the confidence that I was going to have a partner in this that would help me accountable." Caren said she appreciates working with a local organization that she can consult with as challenges and questions arise.
Her advice to other women entrepreneurs: "Don't be the first person to say no to yourself," Caren says. "A lot of people find reasons not to walk in that door of BCL or a bank."
AUSTIN
1011 San Jacinto Blvd
Suite 500
Austin, TX 78701
P: 512.912.9884
F: 346.301.5752
NMLS #1114924
DALLAS
400 S Zang Blvd
Suite 1220
Dallas, TX 75208
P: 214.688.7456
F: 346.301.5752
NMLS #1114924
SAN MARCOS
302 W Hopkins St
Suite 2
San Marcos, TX 78666
P: 512.383.0027
NMLS #1114924