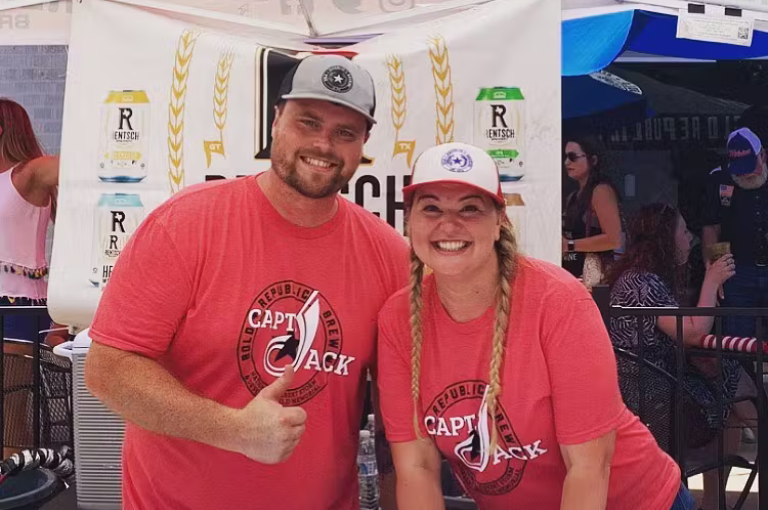 Bold Republic Brewing
Patrick & Adriane Hodges
SBA 504 Commercial Lending
Temple, Texas
Patrick and Adriane Hodges were teachers in Virginia Beach that dabbled in home beer brewing, but it was when they attended a beer fest in 2017 that their lives took a different direction. Patrick saw the brewing setup of one of the craft brewers at the beer fest and noticed it was the same setup he had at his home. "I was using the same brewing setup to give my beer away to friends as this company was using to provide their product to paying customers," said Patrick, "If they can do it, why can't I?"
In 2018, the Hodges decided to move back to Texas, and they also decided it was the right time to follow their dream of opening a brewery. "Instead of deferring our dream," said Patrick, "we got busy." They found a 2,100-square-foot location in downtown Belton, and Bold Republic Brewing was born. Business was going great, and then the pandemic hit. "Our customers literally kept us afloat," explained Patrick, "instead of going to the convenience store to buy beer, they came to us. The people came through for us, and we couldn't have done it without them." The Hodges came out the other side stronger and looked to expand their operations to better accommodate their loyal clientele.
They met with a local commercial builder that had a build-to-suit, multi-use property that was excited at the prospect of having a brewery in their location. They then connected with BLC of Texas Senior Loan Officer Robert Kennedy to get the ball rolling on an SBA 504 Commercial Loan. The draw for the Hodges was the 10 percent down versus the traditional 20 percent, and the real estate, equipment, and build could all be lumped into one loan. They brought on a few small investors to come up with the 10 percent down payment and began the build on the new location. During this time, building costs went through the roof, so the Hodges connected with Rosa Rios Valdez, BCL of Texas' President and CEO, to borrow a little more to cover the overages.
Bold Republic Brewing celebrated its grand opening at the new Temple location nine months ago and has been going strong since then.
The Hodges offer this advice to anyone wanting to start their own business: Don't be discouraged. Surround yourself with good people, and don't compromise on what you are trying to do. Continue to dream big, and don't be afraid to vocalize your dreams. "The scariest part is talking about it, but talk about it anyway," says Patrick. The Hodges encourage you to remember to simply dream big, be vocal, and don't compromise.
If you are ready to build or buy your own commercial building or remodel your current location, talk to the small business lending experts at BCL of Texas to see if an SBA 504 commercial real estate loan may be right for you.
AUSTIN
1011 San Jacinto Blvd
Suite 500
Austin, TX 78701
P: 512.912.9884
F: 346.301.5752
NMLS #1114924
DALLAS
400 S Zang Blvd
Suite 1220
Dallas, TX 75208
P: 214.688.7456
F: 346.301.5752
NMLS #1114924
SAN MARCOS
302 W Hopkins St
Suite 2
San Marcos, TX 78666
P: 512.383.0027
NMLS #1114924