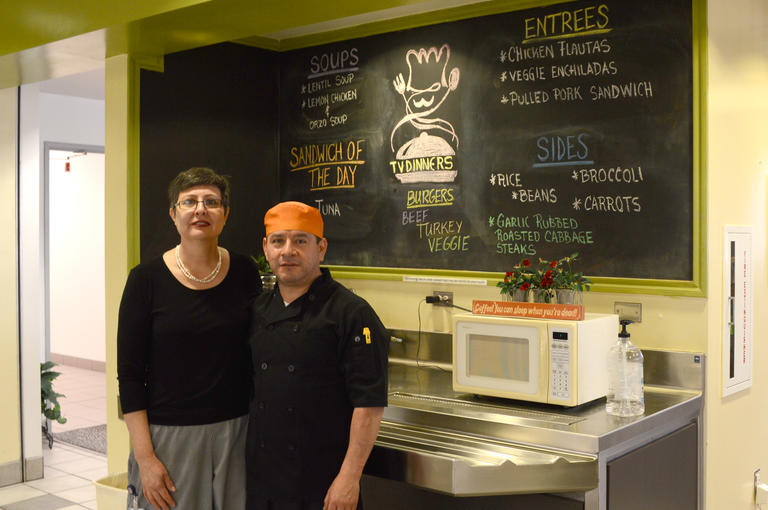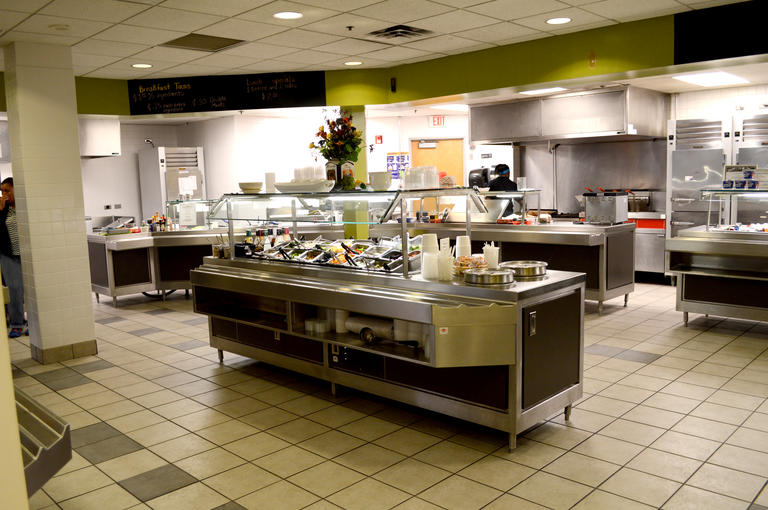 TV Dinners
Juan & Teresa Villanueva
Business Loan
Austin, TX
From the sound of it, you would almost think Teresa Villanueva was running a nonprofit in addition to a full-service cafeteria, catering, and delivery company that focuses on providing healthy, homemade, affordable meals for everyone.
Teresa and her husband Juan incorporated several social benefits into their start-up, TV Dinners, as she began to realize the need for them. Started 4 years ago in the Housing Authority of the City of Austin (HACA) building, TV Dinners began by serving breakfast tacos, and in the beginning Teresa used the proceeds from one meal to purchase supplies for the next.
"We had $300 to start this business. We brought pots and pans from home to cook with," says Teresa. "Thankfully, my husband and I love to cook and already had some of the things we needed in our own kitchen."
As word spread through devoted diners, demand increased and they began to offer lunch and are now open from 7am-3pm Monday through Friday. They use local ingredients, such as chicken and eggs from East Poultry, meat from Longhorn Meats, and coffee from Third Coast, and create seasonal menus to keep costs down, which allow them to provide a range of meal options for any budget to ensure they can be affordable to anyone.
After building their business piecemeal for a while, they met with Rosa Rios Valdez, CEO of BCL of Texas, to secure additional funding. Teresa's many years of experience in the restaurant industry as a manager helped to boost her application.
"Rosa took a chance on us," says Teresa. "We had nothing to really offer as collateral, and we were still somewhat of a start-up, but she believed in us and made us a loan."
With funding from BCL of Texas, they were able to purchase equipment and now had some working capital which allowed them to hire more staff. Teresa believes in paying all of her employees a living wage, and a few of her new hires were HACA residents seeking employment whom she met on-site. She also began to work with the Texas School for the Deaf to hire students with disabilities, and additionally TV Dinners offers jobs to refugees that have little or no English language skills. They currently have 2 refugees from Guatemala on staff working and going to school to learn English. Teresa realized the need to incorporate training into her model so they could develop employable skills, even if they decided to move on.
"I like to hire people who want something better, such as to make a better living or even start their own business," says Teresa. "Everyone comes to us with their own unique situation, and we accommodate by being flexible with schedules and communication tools. Sometimes all we have are pictures and gestures."
For new hires who have little experience and few food service skills, she uses pictures and signs to help communicate, and starts with a list of duties. She checks their speed of completion as they improve, and puts together regular progress reports. One of her prior employees has already gone on to open her own snow cone business, and another is able to take a more active role at his family's restaurant in Houston.
TV Dinners will soon be celebrating their 4th anniversary, and the Villanueva's gift to themselves will be a short vacation, the first time they've left their staff to manage themselves. It's a big step for a couple who have been so integrated into the day-to-day operations of the business, but Teresa feels it's necessary.
"This is not a real business unless I can leave the business to go out and talk to people," says Teresa, "it's so important to create those relationships with others in order to grow."
Plans for the future include opening new locations and expanding their catering services. Although they will keep their hours limited to Monday through Friday, the quality of the food will ensure the family-friendly schedule won't impact their growth.
"We had one customer reschedule her wedding to a Friday just so we could cater the event," says Teresa.
With such a devoted customer base, extensive community support, and invested employees, we're sure TV Dinners has found the recipe for success.
AUSTIN
1011 San Jacinto Blvd
Suite 500
Austin, TX 78701
P: 512.912.9884
F: 346.301.5752
NMLS #1114924
DALLAS
400 S Zang Blvd
Suite 1220
Dallas, TX 75208
P: 214.688.7456
F: 346.301.5752
NMLS #1114924
SAN MARCOS
302 W Hopkins St
Suite 2
San Marcos, TX 78666
P: 512.383.0027
NMLS #1114924