At BCL of Texas, the physical and financial health of our community is our biggest priority. As we weather COVID-19, we know that individuals and businesses across the state are seeing economic impacts. We're here to let you know that we're working for you and we're ready to support you.
También podemos ayudarle en español.
Let's Talk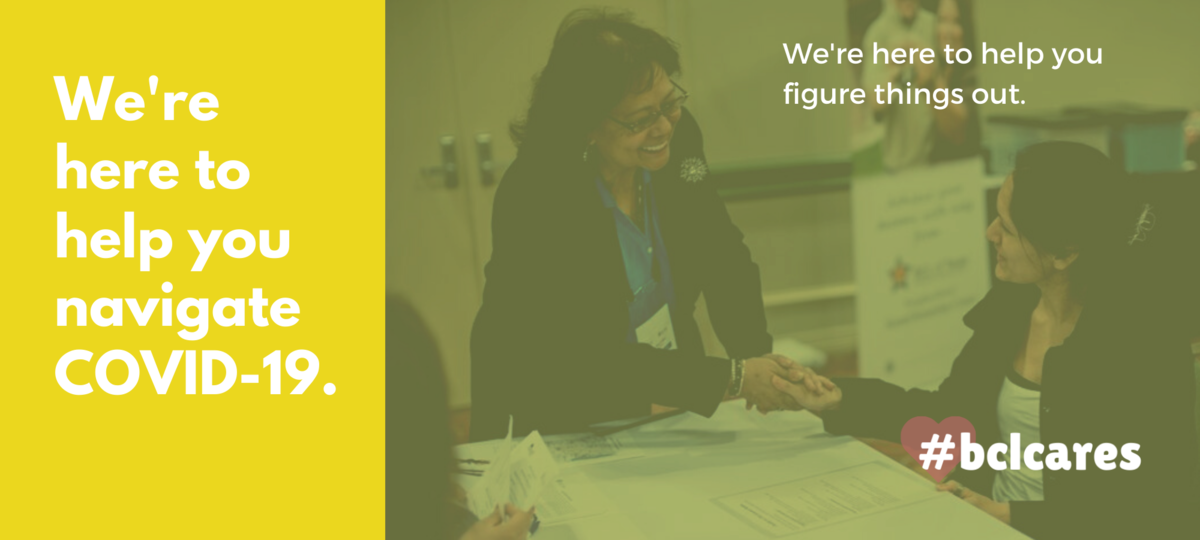 We're here to help guide your business through the SBA loan process and answer other questions you may have for your business as you navigate COVID-19. Just let us know a little bit about your business needs and how to contact you, and we'll be in touch within 48 hours.
---
BCL Loan Customers
BCL is prepared to provide loan deferments to our small business loan customers during this critical health and economic period. Please complete the economic injury form here and email it to Raquel Valdez Sanchez at rvaldez@bcloftexas.org
Small Business: Grant & Local Programs
Austin Area Programs
Here are some of the programs that are available for small businesses through cities and companies. Resources are constantly being updated, so check with your city's Economic Development department to see what local programs they are offering.
Wilco Forward: With the Wilco Forward program, small businesses with fewer than 100 employees and sole proprietors can receive up to $30,000. Learn more here.

City of Leander: On April 8th, the Leander City Council approved a COVID-19 Emergency Business Grant program to provide working capital for personnel costs, rent, utilities and critical business equipment or supplies for existing small businesses within the city of Leander, Texas, that are experiencing a loss of business due to the COVID-19 crisis. Qualified applicants will be eligible for economic development grants in the amount of $2,500 and $5,000, for businesses who can demonstrate direct negative impacts on their business related to the COVID-19 pandemic. Learn more here.
---
Dallas Area Programs
---
State and Nationwide Programs
---
Avoid Scams
It's always important to verify links and make sure you are giving your information to the right people. The SBA will not request sensitive information over the phone or email. Information is instead transmitted through their secure online application or in the case of the PPP, directly to your lender, who should be someone you verify and trust.
If you receive any calls, emails, or other communications claiming to be from the Treasury Department or the SBA offering you grants or stimulus payments in exchange for personal financial information, do not respond and absolutely do not provide any private information such as social security numbers, credit card details, or banking information.
Check to make sure the link you are using for your loan application is an official one. Any SBA or government website will end in ".gov". See more info on avoiding scams here.
Small Business: SBA Loans
Economic Injury Loan Program
Note from the SBA: With the additional funding provided by the new COVID-19 relief package, SBA will resume processing EIDL Loan and Advance applications that are already in the queue on a first come, first-served basis.The SBA will provide further information on the availability of the EIDL portal to receive new applications (including those from agricultural enterprises) as soon as possible.
The Economic Injury Disaster Loan program now offers an advance of $1,000 per employee (up to $10,000 maximum) that can be delivered at an expedited pace. Total loan amounts are being capped to allow the SBA to provide funds to a greater number of businesses, with the new maximum amount estimated to be around $25,000 to $30,000 total. Information is being updated quickly, so please check news sources and the SBA website for the most up-to-date info.
The Small Business Administration is offering low-interest, long-term Economic Injury Disaster Loans, with the first payment deferred for 12 months. The application can be completed 100% online at this link.
---
Paycheck Protection Program
The Paycheck Protection Program is now available for many types of 1099 contract and self-employed workers to replace the owner's normal compensation. As of April 16th, most of the Paycheck Protection Program funds have already been allocated. If you want to apply for PPP, it is best to do so as soon as possible.
The Coronavirus Aid, Relief, and Economic Security (CARES) Act offers forgivable loans to help small businesses keep workers employed. Portion of the loan may be forgivable if the same total number of employees are kept on payroll and 75% or more of the loan is used for payroll costs. This loan program is available through individual banks. You can see more information here.
PPP Application Information & Tips:
Start with your own bank that you already use for your business or personal finances.
Try working with a smaller, local bank.
Make sure your application is complete and not missing any required information.
Be organized and have all of your documentation available and ready to go so you can complete your application on the first try.
Review these PPP frequently asked questions from the National Association of Government Guaranteed Lenders.
---
Other Relief Options Under the CARES Act
Employee Retention Tax Credit: An employer can receive a $5,000 tax credit per employee if their company has seen a 50 percent reduction in gross receipts in a quarter or has experienced at least a partial suspension of business due to a government order. This is fully refundable and is issued almost immediately. Available under December 31, 2020. Employers are eligible if they did not receive a PPP loan and can tie their business suspension to a government order.

Payroll Tax Deferral Program: Employers can defer the 6.2 percent employer portion of social security through end of 2020, making it essentially an interest-free loan. Any company who has not received a forgiveness date for a PPP loan is eligible. The social security payments can be deferred from March 27 through the end of 2020. Half of the payments deferred have to be paid back by the end of 2021 and the other half by the end of 2022.
---
Existing SBA 504 and 7(a) Loans
The SBA has made existing SBA 504 and 7(a) loans eligible for a 6-month payment deferment. To request a deferment, call your lender directly. BCL of Texas has automatically deferred our SBA 504 loans for all of our current customers with this loan type.
Individuals & Families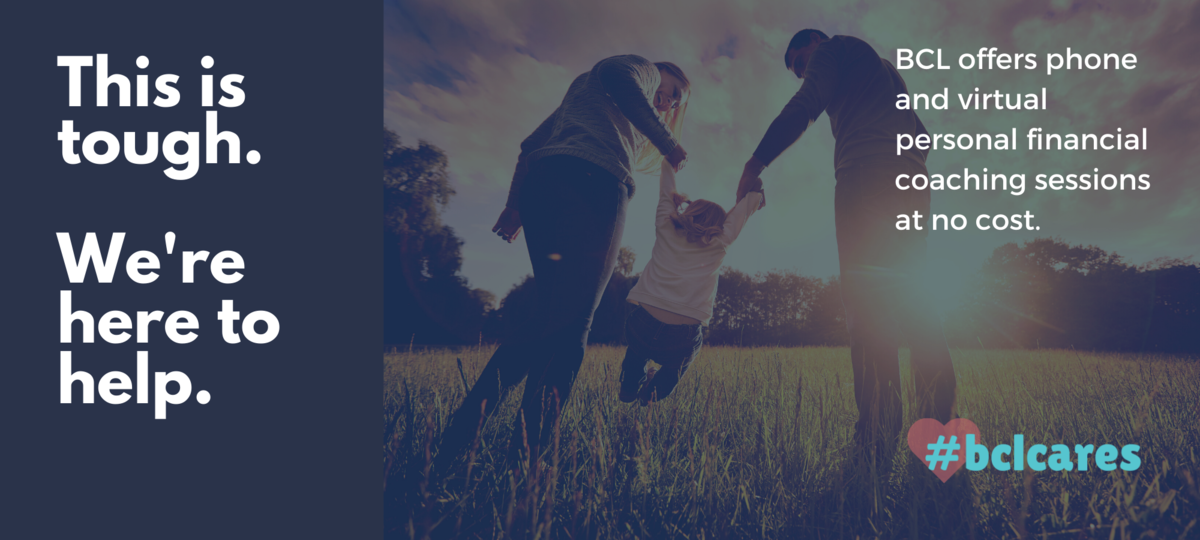 Personal Financial Coaching
If you're ready to visit with an expert about your financial concerns and plan proactively for the next few months, we're offering no-cost sessions with our HUD-certified financial coaches.
Whether you're in a financial hardship now or looking to prevent one, our coaches are offering virtual and over-the-phone coaching sessions to help you create your financial plan and connect you to resources. To sign up, create your profile in our online system. All sessions will be done via teleconferencing or phone.
---
Fort Worth Rent Relief
The City of Fort Worth Community Action Partners program is accepting mail-in PDF applications or online applications for electric, gas or propane utility bill assistance or rental assistance. Download an application pdf online or call 817-392-5720.
Approved participants will be eligible for four payments (consecutive months). Application and more information here.
---
Catholic Charities in Dallas
Catholic Charities of Dallas is offering a variety of relief programs, including direct financial assistance for those affected by COVID-19. View their application and eligibility information here.
---
Dallas Office of Community Care
The Dallas Office of Community Care provides rental assistance, utility bill assistance, andmore. To schedule an appointment, call the appointment line at 214-670-8416. The appointment line is open every Monday and Wednesday from 9:00 a.m. to 11:00 a.m. Please have your account information available when calling. For questions, contact 214-670-8442.
Financial services are based on availability of funds. You must schedule an appointment with a caseworker to be seen. No walk-ins are allowed. Learn more here.
---
RISE Funding
Do you need help paying your rent/mortgage or with paying your utilities? The City of Austin has established the RISE Fund to provide IMMEDIATE services to our most vulnerable families in this time of great need. Please call one of these organizations if you're in need of financial assistance. They are available to help right now. [More info and other participating organizations can be found here. ](The Austin RISE emergency relief program program is now available through 10 organizations, including Austin Area Urban League, El Buen Samaritano, Austin Goodwill, and more. Info below.
http://www.austintexas.gov/article/covid-19-relief-state-emergency-rise-fund?fbclid=IwAR3CytaxkzddsS_AXkD8k39g_qtND5anHPuYTYlFNL2aYfRUJ1lIHL9d504)
Austin Area Urban League: English - 512-838-3442 Spanish - 512-900- 1598
El Buen Samaritano: 512-439-8902 (bilingual)
---
Stimulus Payments*
The CARES act provides a stimulus payment of $1,200 for adults who earn less than $75,000/year ($150,000/year for couples) plus $500 per dependent child age 16 or younger. Note: Everyone in the household must have a social security number to qualify.
The IRS has begun distributing those payments by direct deposit.
*Thank you Foundation Communities for compiling this information.
---
Unemployment Insurance
The stimulus package has expanded unemployment benefits to now include self-employed, part-time, contract, and gig workers. It also supplements state benefits with an additional $600 a week, which more than doubles the weekly maximum unemployment benefits in most states. The application website is currently processing an unprecedented number of applications and is often busy, so we recommend continuing to try at different times of day until you are able to get through.
---
Student Loan Payments
the US government is automatically suspending payments and waiving interest on federal student loans for six months, providing immediate relief for more than 20 million people currently paying off their debt. Learn more here.
---
Avoiding Scams
It's always important to verify links and make sure you are giving your information to the right people. The IRS will not request sensitive information over the phone or email. If you receive calls or emails claiming to be from the Treasury Department or the SBA offering you grants or stimulus payments in exchange for personal financial information, do not respond and do not provide any private information, such as social security numbers, credit card details, or banking information.
See the IRS website here for more information about avoiding scams.
AUSTIN
1011 San Jacinto Blvd
Suite 500
Austin, TX 78701
P: 512.912.9884
F: 346.301.5752
NMLS #1114924
DALLAS
400 S Zang Blvd
Suite 1220
Dallas, TX 75208
P: 214.688.7456
F: 346.301.5752
NMLS #1114924
SAN MARCOS
302 W Hopkins St
Suite 2
San Marcos, TX 78666
P: 512.383.0027
NMLS #1114924