Sign for our monthly e-newsletter to be a BCL of Texas insider and stay in the loop on events, opportunities, and classes.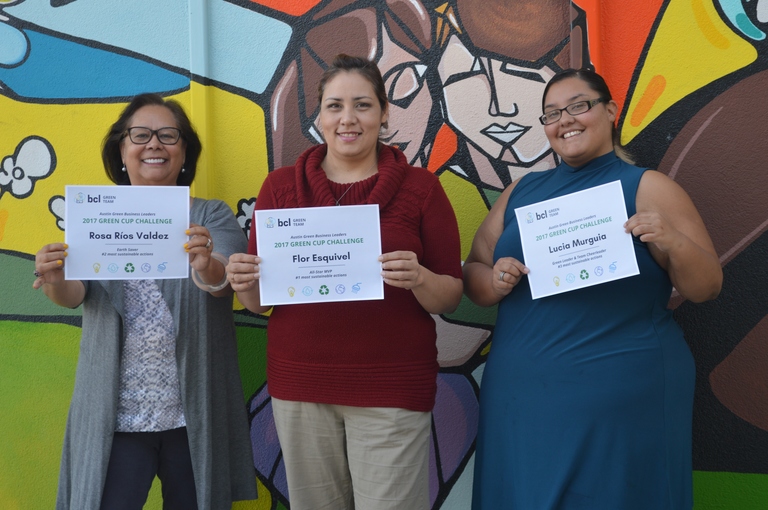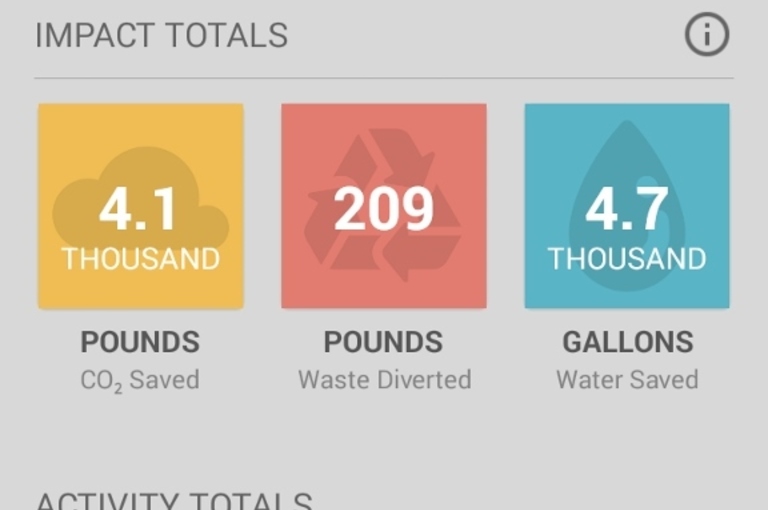 Nov 16, 2017 • BCL of Texas
It's 10am in the office on a Wednesday and we're comparing outfits to see who dressed best for the cold weather, and looking for reusable silverware and refillable water bottles for our eco-party. Later in the day, we all take a walk together, compost our leftovers, and turn down the thermostat as we leave for the evening.
BCL of Texas has always valued environmental sustainability as one of our core values, so each year we look forward to the Austin Green Business Leaders Green Cup Challenge. Austin Green Business Leaders is a group of local businesses across the city that focuses on adopting business practices that protect the environment, save money, and make Austin a more livable place.
Each fall, AGBL hosts a Green Cup Challenge, a friendly competition that uses an app to make a game out of being sustainable to see which company's employees can log the most sustainable actions over the course of a week. With a bit of a competitive streak in addition to our green streak, BCL embraced the challenge and even held our own internal challenge to see which of our staff members could make the most impact during the challenge.
BCL impacts in just 1 week:
4,000 lbs of CO2 not emitted into the atmosphere from shared rides, commuting on bike, and eating locally-grown food
209 lbs of waste diverted through recycling, avoiding shopping bags, and using reusable utensils
nearly 5,000 gallons of water saved through shorter showers, turning off the water while brushing, and not eating meat
Sustainability tips from our team leaders:
Flor, All-Star MVP Award winner: "My inspiration was my son Kenji. He reminded me every day and really got into it." She noticed that lights were often left on and that her kids were using a lot of water while brushing their teeth, so she worked with them to make new habits to turn off the lights and the faucet when not needed.
Rosa, CEO and Earth Saver Award winner: "I love to let the sun in my house and I learned how to do it to warm the house in the winter." She was also inspired by a woman she met at the Paella Lovers United Festival, a realtor who donated compostable plates and utensils for the 800 participants to reduce waste at the event. "It made me appreciate how other people take green actions too, and do it in their own ways."
Lucia, Team Cheerleader Award winner: "It really helped me to have routines," she said. Lucia worked sustainable actions into her before-work, at work, and evening routines, and said that seeing the impact of carpooling for her commute made her grateful for her decision to share a car with her significant other.
Share with us – what are you doing to be more green in your workplace and your daily life?
AUSTIN
1011 San Jacinto Blvd
Suite 500
Austin, TX 78701
P: 512.912.9884
F: 346.301.5752
NMLS #1114924
DALLAS
400 S Zang Blvd
Suite 1220
Dallas, TX 75208
P: 214.688.7456
F: 346.301.5752
NMLS #1114924
SAN MARCOS
302 W Hopkins St
Suite 2
San Marcos, TX 78666
P: 512.383.0027
NMLS #1114924