Sign for our monthly e-newsletter to be a BCL of Texas insider and stay in the loop on events, opportunities, and classes.
BCL of Texas Supports Youth Entrepreneurship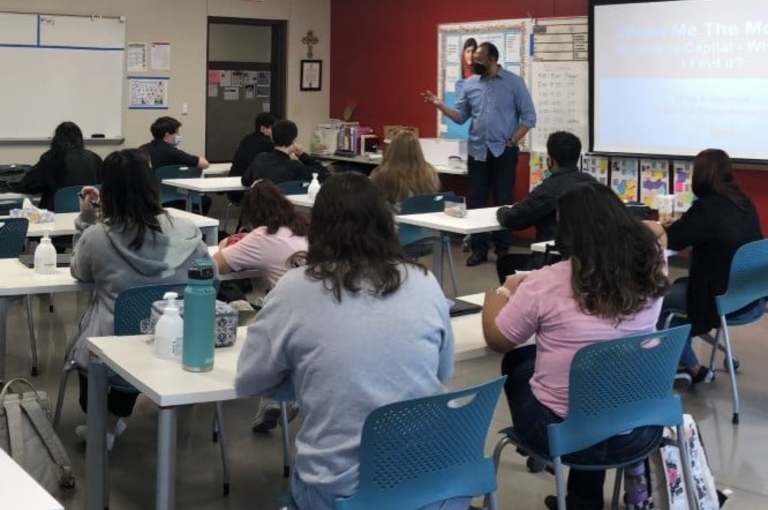 Oct 28, 2021 • Brian K. Marshall
For the past three years, BCL of Texas has supported youth entrepreneurship, thanks to a partnership between San Juan Diego High School Entrepreneurship Program and BCL's Entrepreneurship Program.
Starting in 2019, BCL leadership consisting of CEO Rosa Rios Valdez and Director of Entrepreneurship Brian K. Marshall have played an expanded role in the program that targets entrepreneurship for juniors and seniors to include presentations on how to start a business, marketing, finance, and mentoring to the students in the development of business plans and their final presentations and or " business pitch". The BCL CEO and Director also personally donate funds support the annual business pitch competition.
There are over 30+ students that enroll in this unique program each year with over 60% of the class being female.
The goal for the program is for each student to:
Build confidence and learn about their strengths through entrepreneurship
Enhance communications and oral presentation skills
Explore a variety of business subjects through an interactive curriculum
Learn how to write a business plan and turn their ideas into a business
Develop the entrepreneurship skills essential to business success
Rosa said, "I see tremendous potential in our youth. It's a privilege to be able to engage with them. Teaching leadership and entrepreneurship skills to young generations is just one of the many ways BCL supports economic equity in our communities."
AUSTIN
1011 San Jacinto Blvd
Suite 500
Austin, TX 78701
P: 512.912.9884
F: 346.301.5752
NMLS #1114924
DALLAS
400 S Zang Blvd
Suite 1220
Dallas, TX 75208
P: 214.688.7456
F: 346.301.5752
NMLS #1114924
SAN MARCOS
302 W Hopkins St
Suite 2
San Marcos, TX 78666
P: 512.383.0027
NMLS #1114924