Sign for our monthly e-newsletter to be a BCL of Texas insider and stay in the loop on events, opportunities, and classes.
Meet the family that reduced their debt by $40,000 and paid off 5 credit cards in one year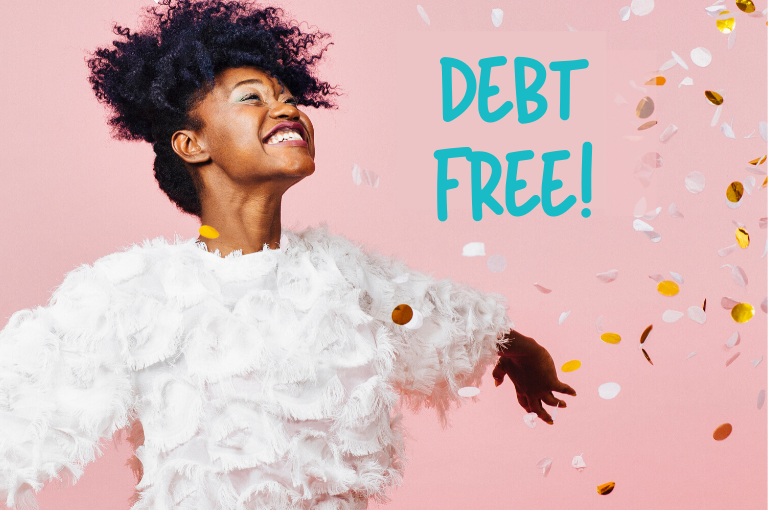 Jan 27, 2020 • BCL of Texas
Have you ever felt like you had so much debt you weren't sure where to start even thinking about how to pay it off? Our customers Amber and Bryce, who paid off $40,000 in car and credit card debt in one year, have some advice: Go ahead and take the plunge now. "If you don't jump now, your situation is still going to be the same a year from now," Amber said.
When Amber and Bryce came to us a year ago, they felt the same way. They had $130,000 in auto and credit card debt from cars and credit cards and felt overwhelmed. They wanted to grow their business and buy a home for their family of 4, but the debt held them back.
They went to a Comerica Bank small business class to learn about business growth strategies, and left with a household budget and monthly check-ins with a dedicated financial coach. A year later Amber says, "Our stress is lower now. You can really feel the financial burden being lifted."
Their eye-opening moment was realizing that they were spending $1800 per month eating out. The family was able to reduce their total food budget to $400 per month, which includes the occasional splurge out, along with a lot of home-cooked meals. "I've never cooked so much in my life, but it's worth it," Amber said. They also traded in their two new cars for older model used cars and cut their monthly car payments in half.
The family's ambitious goal was to pay off three credit cards by the end of 2019. They set a plan to pay down debt using a "snowball" method - paying down off the smallest, highest-interest debts first to reduce total monthly obligations.
Focusing on their vision to grow their business and buy a home, they worked with their coach to develop discipline and stick to their budget. "My financial coach is in my head if I make a wrong decision - we do keep that in mind when making financial decisions," said Amber.
By the time they reached summer, Amber and Bryce were making so much progress that they had had already hit their first goal, so they set a new one. "When we paid off our third credit card, I was like, okay, this is kind of scary, but it's not a bad thing – it was just going so fast. I got to December 2019 and realized we paid off 5 credit cards."
Amber said she's still shocked with their progress. Working with her financial coach allowed her to step back and reassess their situation and ask questions as needed. "I like that I wasn't judged for being in debt," she said. And she said their overall outlook is different now. "You can really feel that financial burden being lifted. Our stress is lower and we are paying bills off earlier now."
AUSTIN
1011 San Jacinto Blvd
Suite 500
Austin, TX 78701
P: 512.912.9884
F: 346.301.5752
NMLS #1114924
DALLAS
400 S Zang Blvd
Suite 1220
Dallas, TX 75208
P: 214.688.7456
F: 346.301.5752
NMLS #1114924
SAN MARCOS
302 W Hopkins St
Suite 2
San Marcos, TX 78666
P: 512.383.0027
NMLS #1114924